Mac 'n' Cheese
I love macaroni and cheese and I have never ever served it from the packet (although I hear all those who claim their kids LOVE it) But, be warned - with a little gourmet addition here - this will become a true family favourite and you can get the kids helping with the process. The recipe is the basis - but don't hesitate to take a little gourmet risk here and there. You can use some smoked gouda and cheddar together for the cheese component; some even swear by a little cubed cream cheese in the mix; how about a 3 cheese version? Rather than bacon you could utilise some crispy prosciutto, or even a little pancetta - in the sauce as well as the on the crumb.
MAINS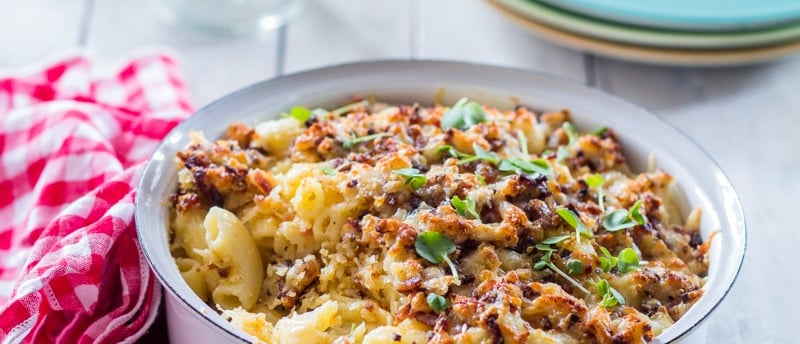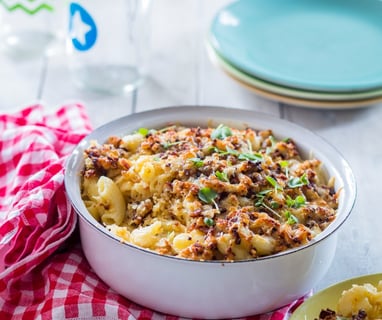 Feeds 4
Ingredients
500g elbow macaroni
4 Tbsp butter
1 medium onion, chopped 1⁄2 cup flour
1 cup chicken stock
11⁄2 cup milk
11⁄4 cup cream
2 tsp sea salt
1 tsp ground black pepper
1 tsp dijon mustard
2 tsp Worcestershire sauce
500g grated cheese
For the Crumb:
2 cups Panko bread crumbs
4 Tbsp butter, melted
4-6 slices bacon, cooked and crumbled
1⁄2 cup Parmesan cheese
Boil a large pot of water, add a dash of salt and cook the macaroni until tender. Stir a couple of times so that you don't get clumps cooking together. Drain well in fresh water and set aside in a colander.
In large oven proof pan, melt butter over medium high heat. Sauté your chopped onions until translucent and just starting to brown.
Reduce heat to medium and sprinkle in flour; use a wooden spoon to mix with the butter and onion. Cook on medium heat for one minute. (This is your roux)
Combine milk, cream and chicken stock in a jug and add to the mixture in the pan. Use your
wooden spoon to start with the mixing process and then switch to a whisk for 1-2 minutes and cook over a medium heat until lovely and thick.
Add salt, pepper, mustard and Worcestershire sauce; reduce heat to low and continue to cook to combine the flavours.
Add the cheese to the pan and stir to thoroughly combine.
Add the cooked macaroni to the cheese mixture and stir over a low heat to bring together. Smooth top and remove from the heat.
Combine panko bread crumbs, melted butter, bacon and parmesan cheese together and mix well. Sprinkle over the top of the macaroni cheese and pop under a medium grill until the top is golden.
Kids Like To:
Make White Sauce
Grate Cheese
Mix the crumb together