Parsnip, Pumpkin, Silverbeet Coconut Curry
You can make this curry with any mix of seasonal vegetables. Feel free to omit the carrots and increase the parsnips or substitute for other vegetables you have in the kitchen.
MAINS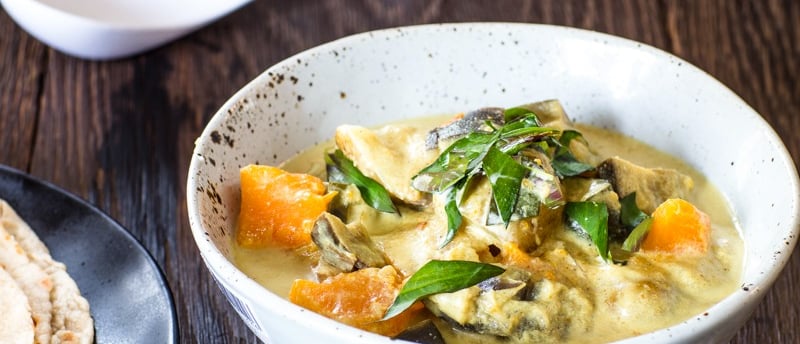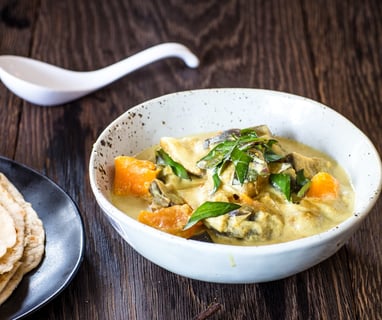 Serves: 4
Prep Time: 20 minutes
Total Time: 40 minutes

Ingredients
2 Tbsp vegetable oil
1 large onion, diced
5 coriander roots and stems (save the leaves for garnish), chopped
1 large red chilli (or a smaller size chilli depending on your taste and heat preference), finely chopped
500g butternut or pumpkin, diced
300g parsnip (approx x 2), diced
200g carrots (approx x 3), diced
1½ cups low-sodium warm vegetable stock
2 Tbsp curry powder
400g tomatoes, freshly chopped or tinned
400ml coconut milk
1 bunch silverbeet, washed, leaves deveined, roughly chopped
Heat the oil, on medium heat, in a heavy based, large casserole dish. Add the onion and sweat for 5 minutes, taking care to adjust heat so that the onion softens without colouring.
Add the coriander roots, stems and the chilli, and cook gently for another 5 minutes.
Add in all the chopped root vegetables, the stock and curry powder. Use a spoon to gently toss to combine.
Increase the heat and allow the liquid to boil. Reduce back to medium, cover with a lid and allow to cook for 15 minutes. (Stir a couple of times to stop any sticking and to make sure all the vegetables start to soften)
Add the coconut milk and tomatoes and cook for another 5 minutes. Finally add in the silver beet, gently stirring in as it wilts. Cook for a final 5 minutes.
Top with coriander leaves, Vietnamese mint, or basil - or all three!
Serve with rice.
Options:
Serve with toasted coconut sprinkled on top

Serve with paratha, naan or pappadums

Top with crushed peanuts, chopped chilli or crispy shallots
Tips:
Dice the vegetables into similar sized cubes so that they cook evenly. The pumpkin will soften quickly and will turn the curry a gorgeous golden colour. If you like texture then you can leave the carrot pieces slightly larger for more of a bite.

Make extra to have a quick freezer meal option.